Jesus offers us a model of how to build stronger and more purposeful relationships with intentionality through meal sharing.
More from Never Regret
A New Year brings with it all new possibilities. It is the opportunity to wipe away the previous year and start fresh. Here's what we all know and have experienced - there are certain habits and activities that are difficult on the front end, but afterwards, we never regret. What would it look like to live this year in a way that you will never regret? We are exploring key habits to embrace in the New Year that you will never regret.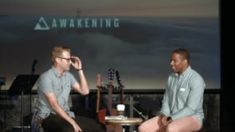 Part of Never Regret
Presented by Eric Frampton, Ryan Ingram