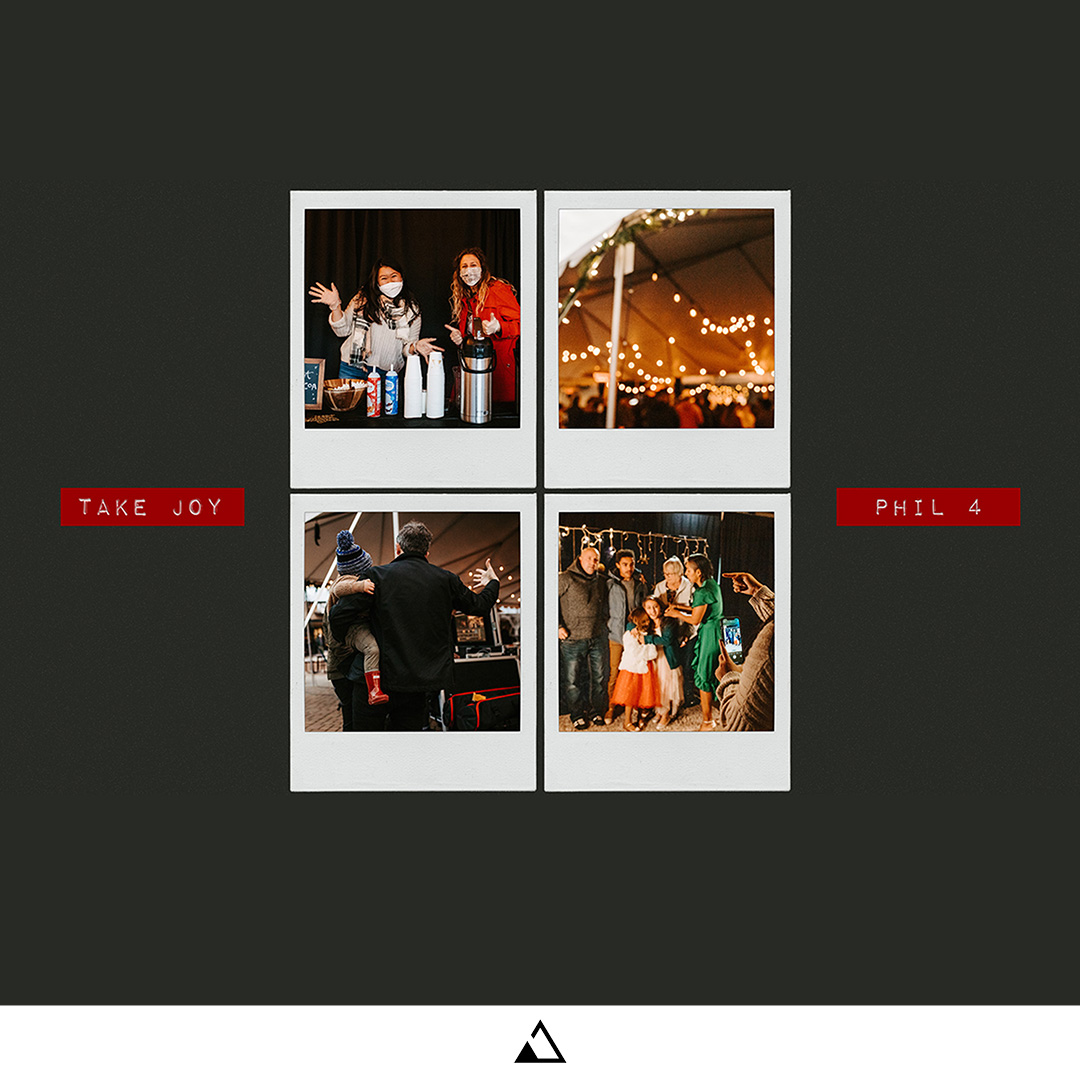 Teaching Notes
TAKE JOY part 3
Joy is not a passing sensation of pleasure, but a pervasive sense of well-being
that is infused with hope because of the goodness of God.
- Dallas Willard
How do you experience true, deep, lasting joy?
Week 1:  Joy is a CHOICE.  Joy is a PATH.  Joy is a PERSON.
How do you take joy when it feels like life has knocked the joy out of you?
Week 2: Prayer OVERPOWERS anxiety with the PRESENCES of God's peace.
How do you cultivate joy in a negative world?
MINDSET
Mindset [def.] – a fixed state of mind, a mental attitude or inclination
The Power of Your Thinking:
COMPLAINING rewires your brain.
NEGATIVITY sticks like Velcro in your brain.
GRATITUDE reduces stress & improves your mood.
ATTITUDE is highly contagious.
Finally, brothers and sisters, whatever is true, whatever is noble, whatever is right, whatever is pure, whatever is lovely, whatever is admirable—if anything is excellent or praiseworthy—think about such things.
Philippians 4:8
True: consistent with or corresponding to reality, in accordance with facts, genuine, real; "vs. things that are deceptive, illusions that promise peace and happiness." 
Noble: worthy of respect, inspires awe; "things that lift the mind from the cheap and tawdry to that which is noble and good and of moral worth."
Right: just, fair, equitable; that which conforms to the character of God; doing what is right when tempted.
Pure: having the characteristics of moral purity, holy; free from defilement in thought, word, and deed; morally uncontaminated. 
Lovely: winsome, beautiful, pleasing, amiable, attractive; "it pictures those things that call forth a response of love and warmth within us vs. bitterness, criticism and vengeance." 
Admirable: Of good repute, commendable, literally 'fair speaking;' the things which are fit for God to hear vs. ugly, false, impure words.
Joy is a daily DECISION of the MIND.
Pay attention to what has your ATTENTION.
Those who live according to the flesh have their minds set on what the flesh desires; but those who live in accordance with the Spirit have their minds set on what the Spirit desires.  The mind governed by the flesh is death, but the mind governed by the Spirit is life and peace.
Romans 8:5-6
Treat negative thoughts as an ENEMY.
We demolish arguments and every pretension that sets itself up against the knowledge of God, and we take captive every thought to make it obedient to Christ
2 Corinthians 10:5
Change the PLAYLIST of your thought life.
Do not conform to the pattern of this world, but be transformed by the renewing of your mind. Then you will be able to test and approve what God's will is—his good, pleasing and perfect will.
Romans 12:2