We exist to awaken this generation to new life in Jesus Christ.
We're so glad you're here! If you're new to Awakening, we would love to get to know you and for you to get to know us! The best way to do that is by filling out a Connection Card.
Awakening Announcement
Dear Awakening Family,
As Christina Papoulias has been on our pastoral team for the past five and a half years, we wanted to inform you of the announcement she made to our congregation during both services this past Sunday:
The leadership at Awakening and I have come to a mutual decision that my season on staff has come to an end. Coming to this decision has been very difficult and I'm incredibly sad. I've spent 5 and half years on our staff team and my family has poured almost 11 years of our lives into Awakening. We love our church family and I love our staff team, our ministry leaders and our church so much!


I still feel a call to ministry and believe strongly in God's plan for the local church. I want to continue to be a pastor…I'm not sure where at this point. Until I feel called to another church, our family plans to stay in the Awakening Church community.
As the transition of any staff member is hard to receive, we are extremely thankful for Christina's impact to Awakening Church and are grateful that the Papoulias family will remain an active part of our church family.
Christina will continue on staff for the next several weeks helping transfer her responsibilities through the end of June 24th. As this transition was a mutual decision, Christina's priority throughout this process has been for the health of the church. Lead Pastor, Ryan Ingram, and I have been managing the timeline of this transition and the elders have ensured that she and her family are financially cared for during this season.
A time to formally thank Christina will be planned after services on July 16th, however, don't hesitate to reach out to Christina with gratitude at
[email protected].
As Ryan is currently on sabbatical, please feel free to contact me anytime at [email protected] if you are needing further processing regarding this most recent staff transition, or if I can provide assistance within other areas of our church family.
Serving you,
Dave Smith
Executive Pastor
Awakening Church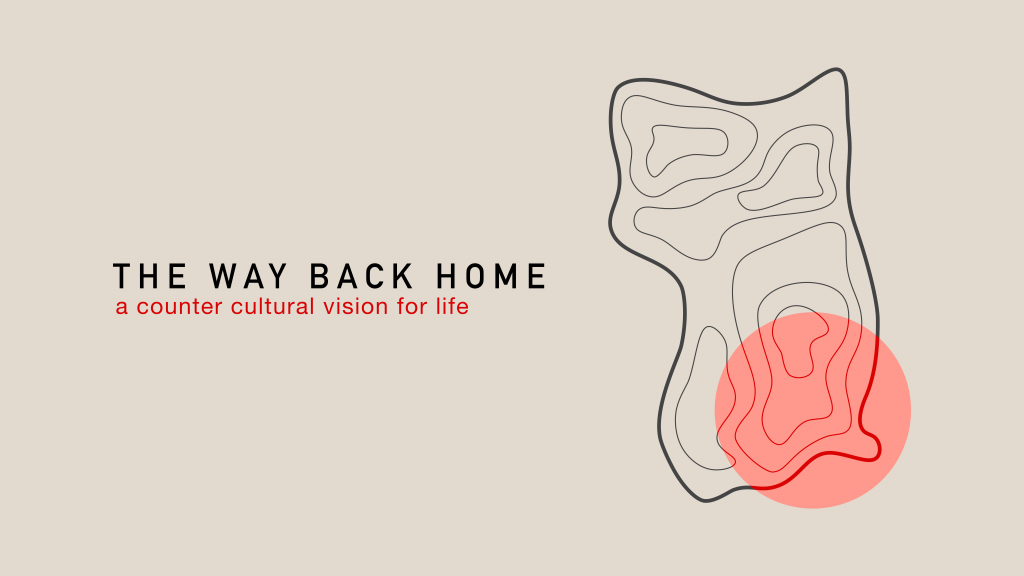 Part 1 | Blessed are the Poor in Spirit
The soul is searching for wholeness. We have an unshakable belief that there must be more to life. Our hearts beat with a relentless longing, desperately seeking our true home.
In the Beatitudes, Jesus sets forth a countercultural vision for life, a sacred roadmap to the way back home. Blessed, happy, and whole are those who find their heart's true home in Jesus. Join us for our summer teaching series, The Way Back Home, as we journey through the Beatitudes of Jesus.
Note:
The Beatitudes are not a list of "to-do's" or rules to live by but a signpost pointing out the qualities of those growing in their relationship with Jesus through the power of the Holy Spirit.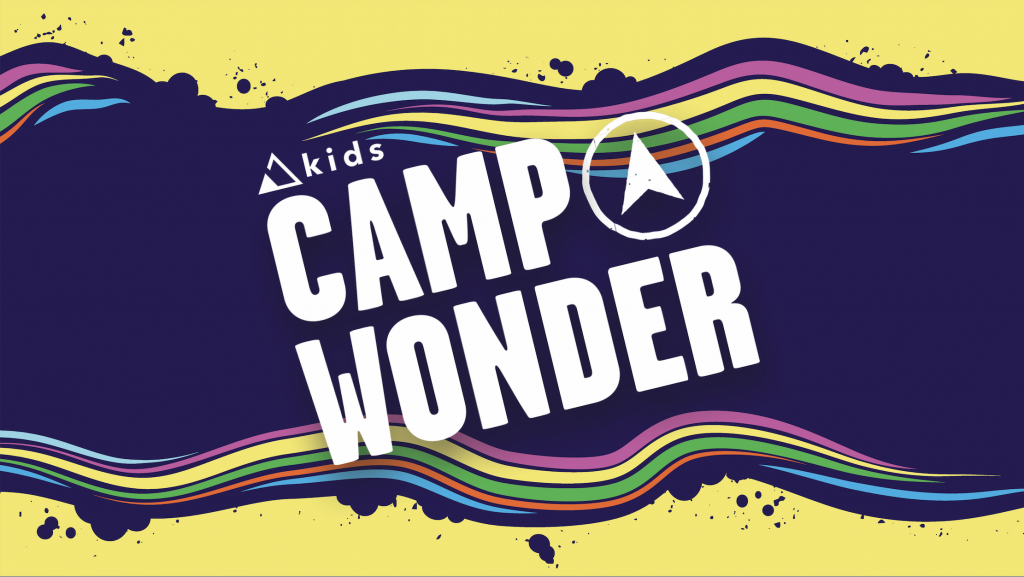 Camp Wonder is here!
Camp Wonder is a free, outdoor event for kids entering kindergarten through 5th grade. At Camp Wonder, kids will experience a week full of fun, laughter, water activities, and lots of God's Word! Kids will READY, SET, MOVE to follow Jesus here, there and everywhere by using their innate gift of curiosity and STEAM activities. We end the week with a fun family night! June 19-22| 9am-12pm & June 23 | Family Fun Night!
Join the Wonder Crew!
Camp Wonder needs many hands to run smoothly and share the love of Jesus with kids. We have volunteer opportunities including early morning set up, craft prep from your home, committing to pray through camp week, and group leaders working directly with the kids. Jesus says "let the little children come to me." Every person who helps & prays is paving the way for these kids to know Jesus!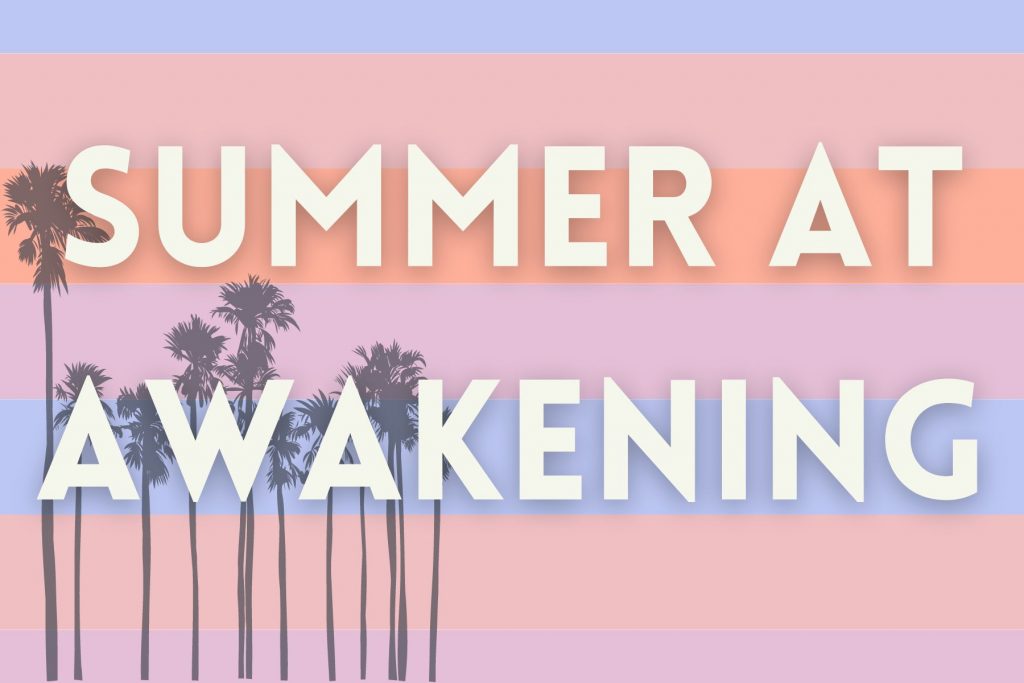 GATHER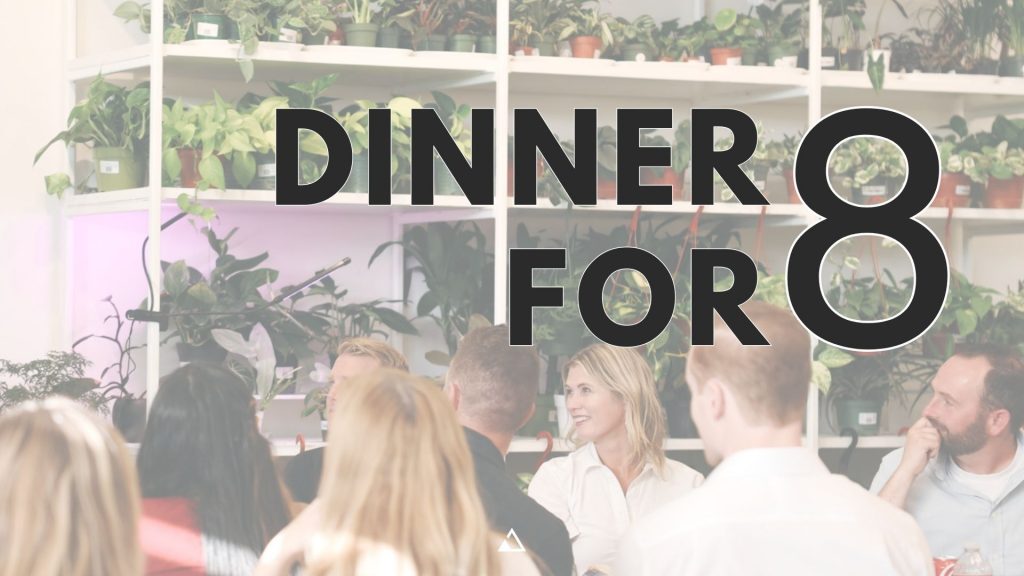 Dinner for 8
Hang out and build friendships with our church community by joining or hosting a shared meal at home. Sign up for a date today and leave the matchmaking up to us!
---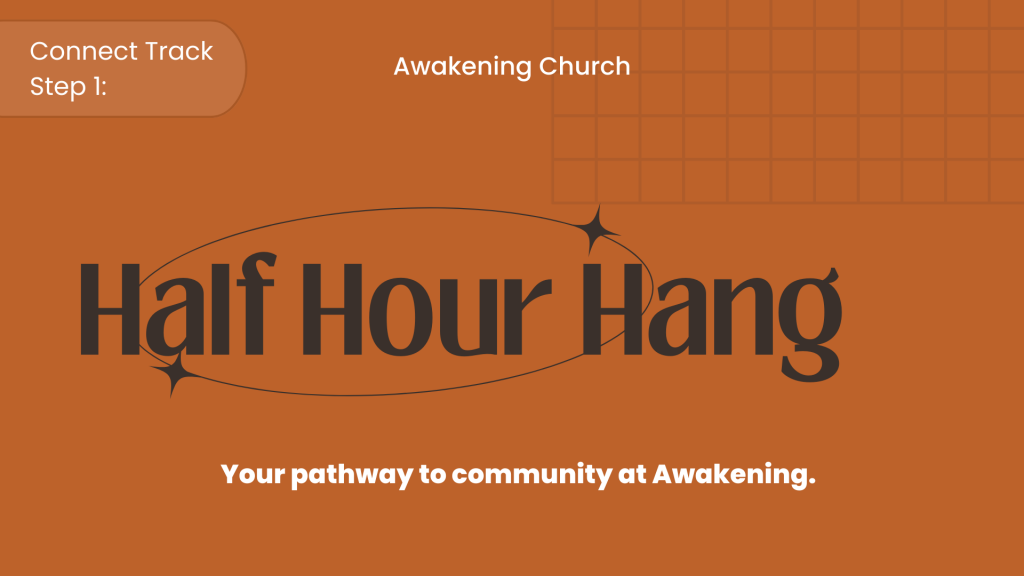 Half Hour Hang is a monthly space created to introduce you to who we are and for others who are new to get to know one another and build community. This high level overview is your first step to get to know us and plug into Awakening's culture! Join us on June 25th in between services.
GROW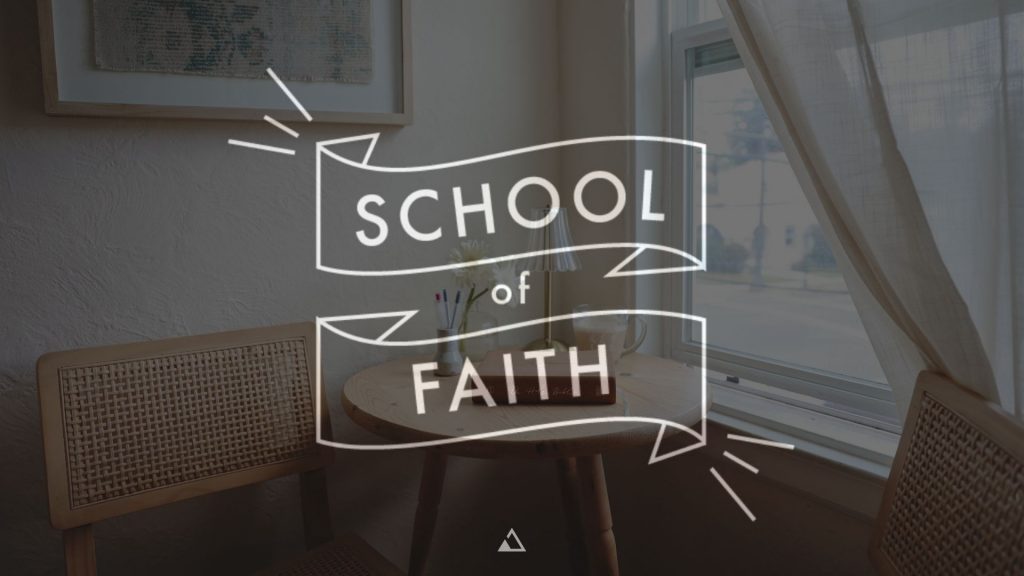 Summer Studies
Grow deeper in your knowledge of God's Word & faith through thought-provoking guest lecture series and longer format studies in July and August. Here are our upcoming classes, be sure to sign up soon!
A Captive Mind with Chris Nye | June 17th
Breaking Free from Body Shame | 5-week study July 10th-August 14th *for women only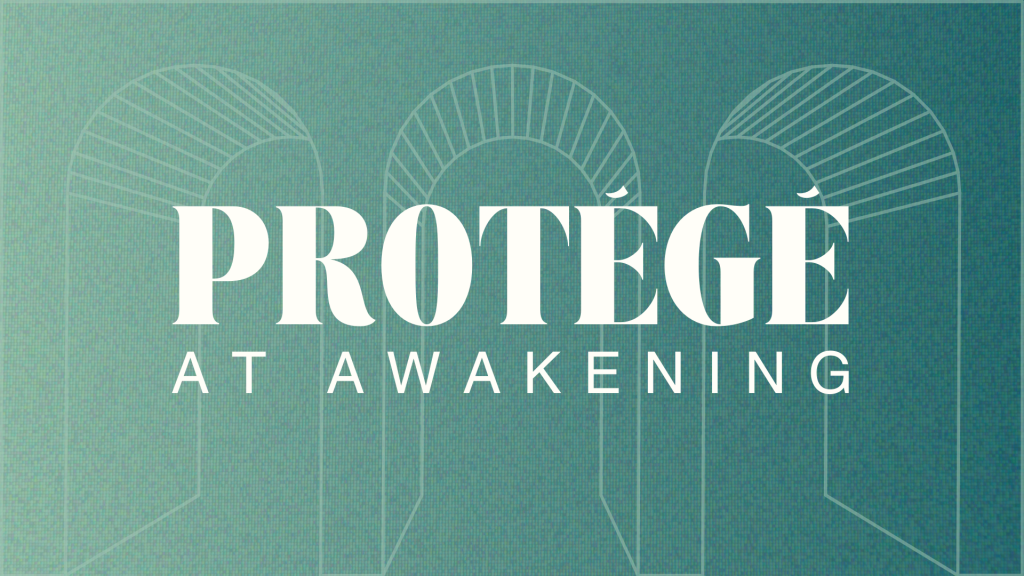 Join our 2023-2024 Cohort!
Do words like "leadership" or "calling" excite you or make you curious? Have you wanted to grow in your discipleship and pursue your faith in a deeper way? Well, then Protege is for YOU!
Protege is a nine-month discipleship experience where you will be mentored, taught, encouraged, and challenged to grow in your leadership abilities and connection with God. Fill out an application today or email [email protected] for any questions you may have!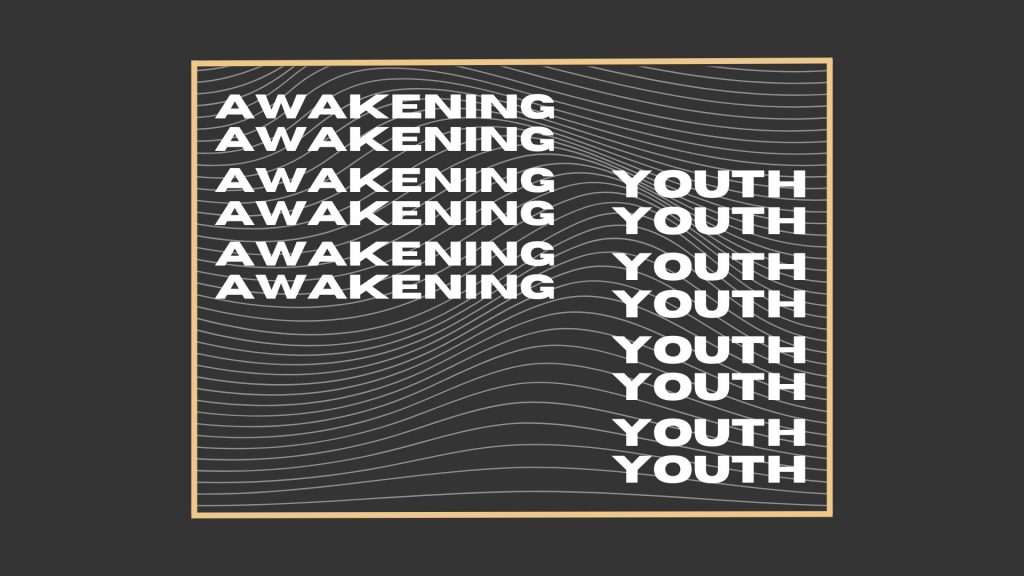 Junior High Hume Lake Camp
We are sending our Junior Highers off to Hume Lake this summer! At Hume Lake they will be engaging in scripture, fun activities, deep community, and so much more. All incoming 6th-8th graders are welcome to join from July 30th-August 5th! Registration close July 1st.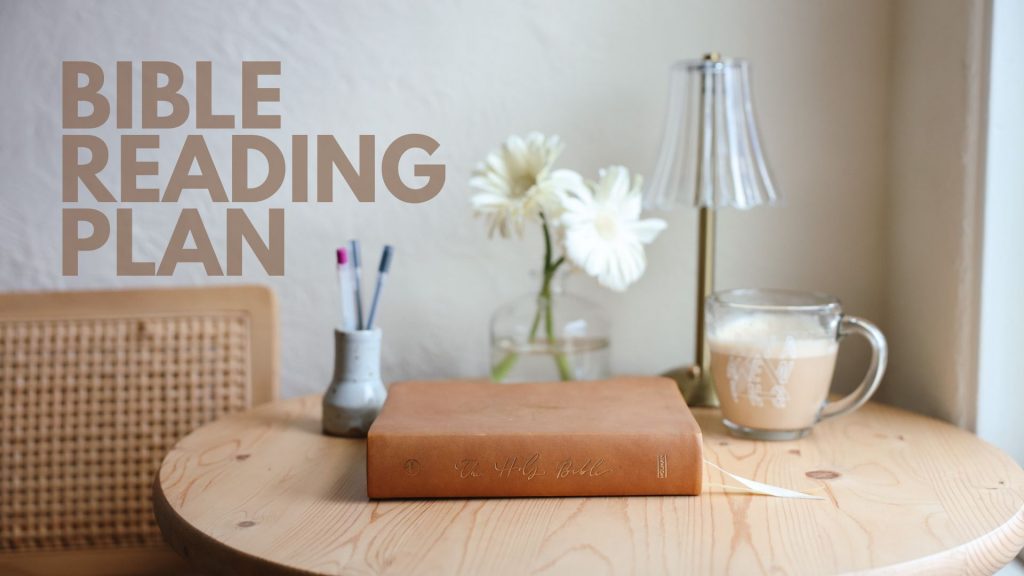 30 Days in Mark
As we continue our 2023 "Year of Jesus" at Awakening, we want to invite you to spend the next 30 days reading the Gospel of Mark with us. Our hope and prayer is that as followers of Jesus we would daily meditate on God's Word: faithful that it sharpens us, transforms us, teaches us, and encourages us.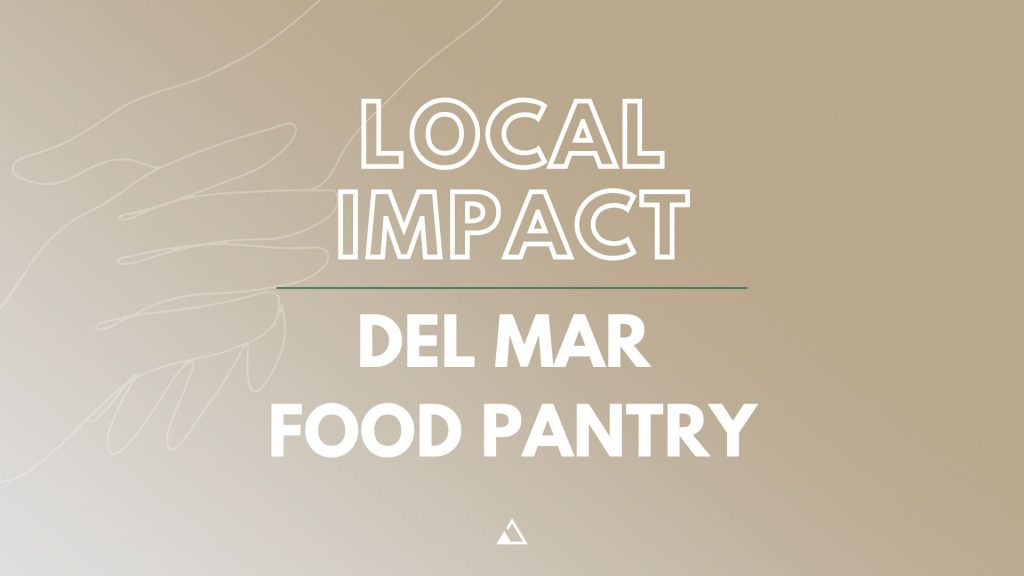 Food Pantry | Every 1st & 3rd Thursday
As a church, we have a partnership with CityTeam and Del Mar High School to bring a mobile food pantry to our community in San Jose! This happens every 1st & 3rd Thursday of the month from 3pm-5pm. We encourage you to sign up today as we are always in need of more volunteers!
Awakening Service Times:
9:30am & 11:15am at Del Mar High School

Awakening College Ministry:
College Group | Sundays at 6pm
College Hang in between services in the Quad

Awakening Youth Ministry:
Junior High | 11:15AM in the Library
High School | 11:15AM in Service (front right section)

Awakening Kids Ministry:
Newborn-5th Grade | Both services (9:30AM & 11:15AM)