Discover how to cultivate intimacy in marriage and prepare for intimacy when single.
More from Marriaging
Many people talk about getting married, but we rarely consider how to actually be married. How do you love your spouse for a lifetime, not just a moment in your life? From the moment someone says "I do" begins a journey of learning to become one. Join us as we discover how to find and build a Jesus-centered marriage.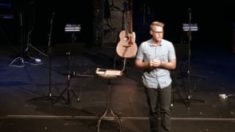 Part of Marriaging
Presented by Ryan Ingram