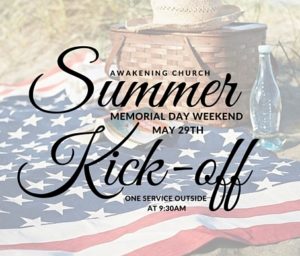 We can't wait for summer and we plan to take advantage of the weather every chance we get. So, you're invited to bring family and friends to join us on Sunday May 29th for tacos, dessert and fun! On Memorial Day weekend, we'll have only one service all together outside at 9:30am, and afterward we will have tacos together. Bring your favorite dessert to share!
Live Missionally this Memorial Day – Awakening is partnering with Operation Care and Comfort to provide support and comfort to "adopted" units of deployed U.S. military service members, serving in Iraq, Afghanistan and other conflict regions. You can be a part of this work by donating items from the list located below at Awakening…
ITEMS MOST REQUESTED:
– Beef Jerky
– Microwave Meals
– Soups (no pork)
– Individually Wrapped Candies
– Powdered Drink Mix Packets
– Hotel Sized Toiletries
– Mach III Razor and Cartridges
– Dental Supplies
– Sunscreen
– AA and AAA Batteries
– AT&T Phone Cards
– Hand Written Cards and Letters of
Encouragement and Thanks
To view a complete list of items go to https://www.occ-usa.org/donate/donate-goods/
Drop off any donations to the Welcome Table at Church any of the last 3 Sundays in May! Items will be delivered to OCC and they will pack and mail the care packages.
Thank you for your help in bringing care and comfort to a soldier as they fight for freedom.
Questions or for more Information Email: [email protected]